Marketing Automation and its Benefits
Marketing Automation allows a business to capture leads and convert them to paying customers through automated marketing.
Our Marketing Automation Software automatically sends customized emails and/or SMS messages to leads and customers based on their place in the sales journey. For example, when someone subscribes to your email list, they will receive a special offer that encourages them to come back and make a purchase.  Or, when a customer has made a purchase, they will receive a message asking them about their experience and if they wanted to leave feedback about their visit.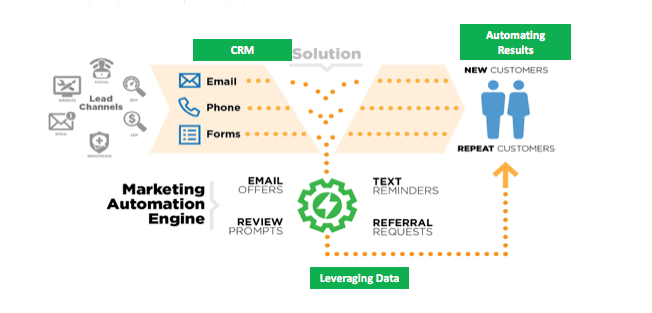 To make it simple for business owners, our software gathers contacts from phone calls, website form submission, business emails and any additional provided contact lists. Businesses can update their offers, send out text messages, and view all activity generated by the system through the dashboard. All new referrals, feedback, reviews and offers claimed will appear in the dashboard.
Keep Customers Coming Back

Nurture Leads through Interesting Content

Better Understand the Needs of Customers

Make it Easy for Customers to Leave a Positive Review

Gain New Leads through Customer Referrals